There's no doubt about Benagil Cave being covered as a top destination in bucket lists as "must expericence before you die" all across the internet. And maybe you came across this magnificent natural treasure because of the most stunning photos in the well known Social Media channels the "Algar de Benagil". Perhaps now the time has come to witness it in the Algarvian holidays by yourself?
We cover this dreamlike destination through one of our most popular SUP Tours: SUP Sunrise Benagil Cave tour.
Since our tour starts early in the day, you'll be able to experience this magnificent marvel just by your own or in our group of 4 people max.
Our SUP groups are no larger than 4 people
It has various reasons why our SUP groups hold no more than 4 people. Firstly, this allows our participants a really intimate experience of this world famous cave. Secondly, we start rather early in the day before the whole touristic machinery awakens.
Rest assured, to experience this magnificent cavern by SUP paddling in the quiet early hours of a waking sunny day gives you a really unspoilt awareness how it must have felt hundred years ago.
And there's even more:
As the sun rises (and some few other enthusiasts may arrive at the cave) we will be paddling on in our Stand Up Paddle Tour to visit various other natural gems like Natural Arch, Carvalho Beach, Corredoura Beach, up to Mosque Beach where we all have a recreational break with freshly squeezed natural juice and local baked cookies.
Here's more about our Benagil Cave SUP Tour
Our Benagil Cave SUP Stand Up Paddle Tour covers many highlights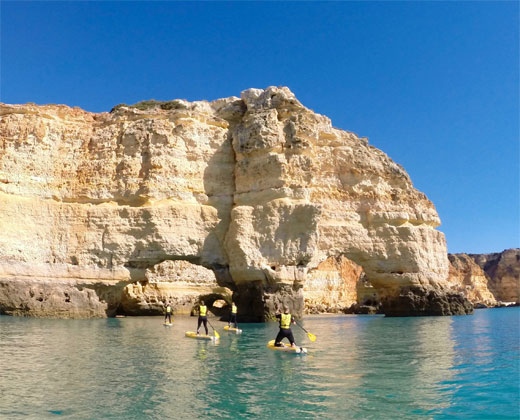 Just to name one of the many highlights we encounter during our paddling along the Algarvian coastline: Just look at this most magnificent rock formation, called Natural Arch, Algarve, just before the Mosque Beach.
You will silently glide under those giant archs and with some luck, you will be accompanied by dolphins.