There's no doubt about Benagil Cave being cov­ered as a top des­ti­na­tion in buck­et lists as "must experi­cence before you die" all across the inter­net. And maybe you came across this mag­nif­i­cent nat­ur­al trea­sure because of the most stun­ning pho­tos in the well known Social Media chan­nels the "Algar de Benagil". Per­haps now the time has come to wit­ness it in the Algar­vian hol­i­days by yourself?
We cov­er this dream­like des­ti­na­tion through one of our most pop­u­lar SUP Tours: SUP Sun­rise Benagil Cave tour.
Since our tour starts ear­ly in the day, you'll be able to expe­ri­ence this mag­nif­i­cent mar­vel just by your own or in our group of 4 peo­ple max.
Our SUP groups are no larger than 4 people
It has var­i­ous rea­sons why our SUP groups hold no more than 4 peo­ple. First­ly, this allows our par­tic­i­pants a real­ly inti­mate expe­ri­ence of this world famous cave. Sec­ond­ly, we start rather ear­ly in the day before the whole touris­tic machin­ery awakens.
Rest assured, to expe­ri­ence this mag­nif­i­cent cav­ern by SUP pad­dling in the qui­et ear­ly hours of a wak­ing sun­ny day gives you a real­ly unspoilt aware­ness how it must have felt hun­dred years ago.
And there's even more:
As the sun ris­es (and some few oth­er enthu­si­asts may arrive at the cave) we will be pad­dling on in our Stand Up Pad­dle Tour to vis­it var­i­ous oth­er nat­ur­al gems like Nat­ur­al Arch, Car­val­ho Beach, Corre­doura Beach, up to Mosque Beach where we all have a recre­ation­al break with fresh­ly squeezed nat­ur­al juice and local baked cookies.
Here's more about our Benagil Cave SUP Tour
Our Benagil Cave SUP Stand Up Paddle Tour covers many highlights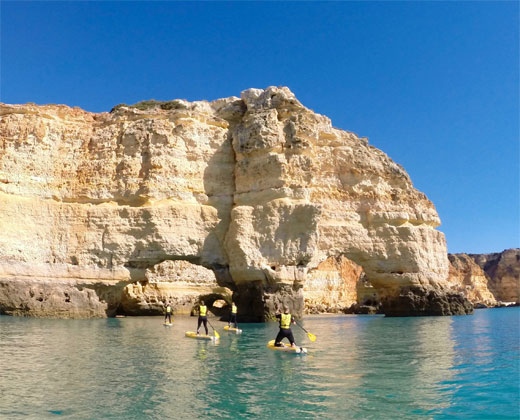 Just to name one of the many high­lights we encounter dur­ing our pad­dling along the Algar­vian coast­line: Just look at this most mag­nif­i­cent rock for­ma­tion, called Nat­ur­al Arch, Algarve, just before the Mosque Beach.
You will silent­ly glide under those giant archs and with some luck, you will be accom­pa­nied by dolphins.