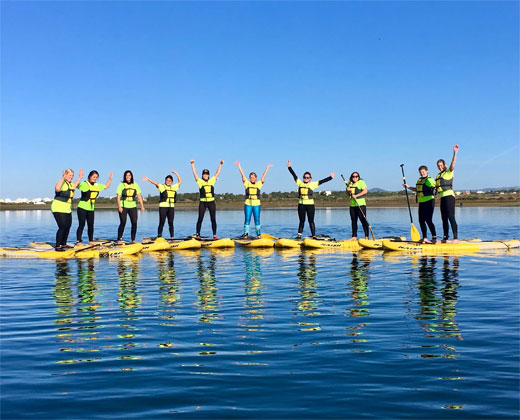 Why don't you join one of our famous Ria For­mosa Stand Up Pad­dle SUP tours?
Final­ly dis­cov­er the fas­ci­nat­ing envi­ron­ment of Ria For­mosa Nat­ur­al Park and wit­ness the beau­ty of its fau­na and flora.
Do you tru­ly want to expe­ri­ence the authen­tic calm and qui­et of the sand shel­tered beach­es of Olhão?
Do you want to con­nect with the unspoilt sur­round­ings and qui­et beach­es of the Ria For­mosa Nat­ur­al Park?
Why don't you join us in one of our SUP tours near Olhão which is also known as Cap­i­tal of Ria For­mosa?
Our SUP Begin­ner Ria For­mosa tour offers enrich­ing expe­ri­ences even for begin­ners. Because of its ide­al and unspoilt envi­ron­ment, you will have the oppor­tu­ni­ty to wit­ness migra­to­ry birds nest­ing, Flamin­gos and even Dol­phins. Maybe the ones who look close­ly even dis­cov­er the Euro­pean Chamaeleon…
In con­trast there's our most roman­tic SUP Sun­set Ria For­mosa tour. It offers not only qui­et and relax­ing Stand Up Pad­dling. In this tour you and your beloved one share the beau­ti­ful expe­ri­ence to wit­ness the sun sink­ing silent­ly into the sea.
Those real­ly are once in a life­time expe­ri­ences, and it's mem­o­ries will cer­tain­ly last forever.