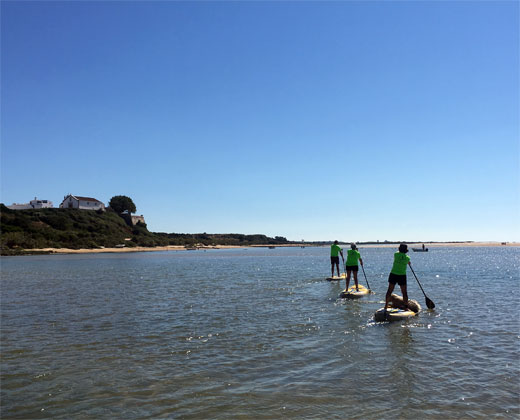 Why don't you join one of our famous Ria Formosa Stand Up Paddle SUP tours?
Finally discover the fascinating environment of Ria Formosa Natural Park and witness the beauty of its fauna and flora.
Would you like to experience the authentic calm and quiet of Tavira's sand sheltered beaches?
Do you want to connect with the unspoilt surroundings and quiet beaches of the Ria Formosa Natural Park?
Why don't you join us in one of our Ria Formosa Stand Up Paddle SUP tours near Tavira?
Our SUP Beginner Ria Formosa tour offers enriching experiences even for beginners. Because of its ideal and unspoilt environment, you will have the opportunity to witness migratory birds nesting, Flamingos and even Dolphins. Maybe the ones who look closely even discover the European Chamaeleon…
In contrast there's our most romantic SUP Sunset Ria Formosa tour. It offers not only quiet and relaxing Stand Up Paddling. In this tour you and your beloved one share the beautiful experience to witness the sun sinking silently into the sea.
Those really are once in a lifetime experiences, and it's memories will certainly last forever.