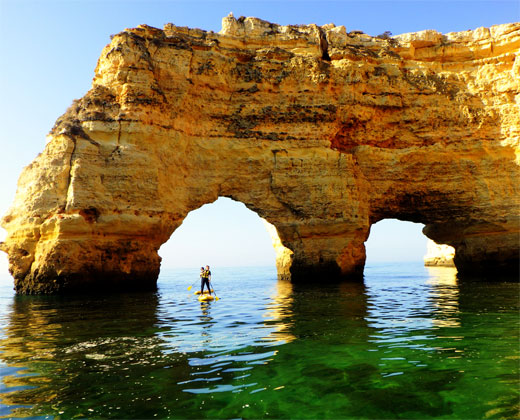 Mosque Beach Stand Up Paddle
Mosque Beach Stand Up Paddle: Join us in experiencing this breathtaking and world famous rock formation as part of our early morning SUP Sunrise Benagil Tour.
West of Mar­in­ha Beach lies the wrong­ly less famous Mosque Beach. Bless­ful­ly it does­n't pro­vide as much sand as the adja­cent Mar­in­ha Beach. So the bunch of beach lovers won't be sun­bathing at Mosque Beach and you'll have it for yourself.
The Mosque Beach pro­vides spec­tac­u­lar views of the famous dou­ble archs which you will have crossed under on our way to where we usu­al­ly refresh our­selves as part of our SUP Sun­rise Benagil Cave tour. We'll be enjoy­ing fresh­ly squeezed fruit juice and some delight­ful yet nutri­tive crack­ers from the local bak­ery befor head­ing back to the world famous Benagil Cave near Lagoa in Portugal's Algarve.
Sure — one may have a glimpse by hik­ing the famou­os Sev­en Hang­ing Val­leys Trail. But only Stand Up Pad­dling your way along the Algar­vian Coast­line let you tru­ly expe­ri­ence this mar­vel of tides.
Custom tailored for groups and according to your schedule
Per­haps you don't have expe­ri­ence in SUP Stand Up Pad­dle? We hap­pi­ly include ele­ments of our SUP Begin­ner Ria For­mosa tour offer­ing enrich­ing expe­ri­ences even for beginners.
Aren't you the sorts of ear­ly ris­ers? In con­trast to the say­ing "Only the ear­ly bird catch­es the worm" we could orga­nize a Stand Up Pad­dle Tour upon your wish­es and pos­si­bil­i­ties. Just let us know. We hap­pi­ly set­up a bespoke tour match­ing exact­ly your expectations.