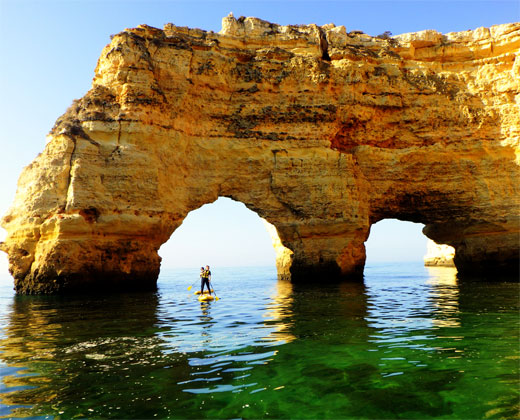 Mosque Beach Stand Up Paddle
Mosque Beach Stand Up Paddle: Join us in experiencing this breathtaking and world famous rock formation as part of our early morning SUP Sunrise Benagil Tour.
West of Marinha Beach lies the wrongly less famous Mosque Beach. Blessfully it doesn't provide as much sand as the adjacent Marinha Beach. So the bunch of beach lovers won't be sunbathing at Mosque Beach and you'll have it for yourself.
The Mosque Beach provides spectacular views of the famous double archs which you will have crossed under on our way to where we usually refresh ourselves as part of our SUP Sunrise Benagil Cave tour. We'll be enjoying freshly squeezed fruit juice and some delightful yet nutritive crackers from the local bakery befor heading back to the world famous Benagil Cave near Lagoa in Portugal's Algarve.
Sure – one may have a glimpse by hiking the famouos Seven Hanging Valleys Trail. But only Stand Up Paddling your way along the Algarvian Coastline let you truly experience this marvel of tides.
Custom tailored for groups and according to your schedule
Perhaps you don't have experience in SUP Stand Up Paddle? We happily include elements of our SUP Beginner Ria Formosa tour offering enriching experiences even for beginners.
Aren't you the sorts of early risers? In contrast to the saying "Only the early bird catches the worm" we could organize a Stand Up Paddle Tour upon your wishes and possibilities. Just let us know. We happily setup a bespoke tour matching exactly your expectations.