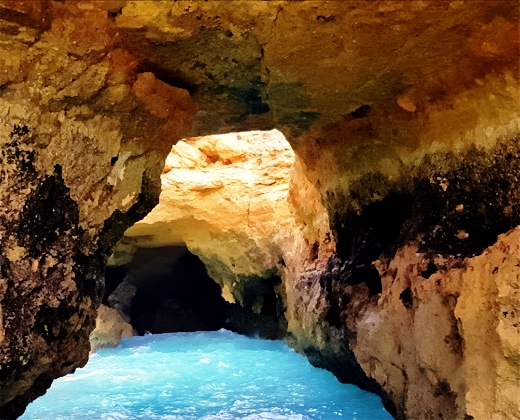 Natural Arch SUP Algarve
Natural Arch SUP Algarve: Join us in experiencing this breathtaking and world famous rock formation as part of our magnificent SUP Sunrise Benagil Tour.
Most probably you didn't yet learn about the Natural Arch Formation. Its impressive rock formations have been carved out by weather and sea through thousands of years. One may have a glimpse of it by hiking the famouos Seven Hanging Valleys Trail. But in our opinion and by our yearlong experience, one only may truly experience this marvel of tides by Stand Up Paddling your way along the Algarvian Coastline.
And the best ist yet to come:
This pittoresque and yet impressive rock formation is part of our SUP Sunrise Benagil Cave tour, starting early morning. You'll have as well a visit to the world famous Benagil Cave near Lagoa in Portugal's Algarve.
Custom tailored for groups and according to your schedule
Perhaps you don't have experience in SUP Stand Up Paddle? We happily include elements of our SUP Beginner Ria Formosa tour offering enriching experiences even for beginners.
Or would you rather skip the "early morning" part of our SUP Sunrise Benagil Cave tour and experience Natural Arch during the day? We'll be happy to setup a tour exactly how you envision. Either case, witnessing Natural Arch on Stand up Paddle sets you inmidst of its rock formation and couldn't possibly be compared to the sight you get just passing by on above mentioned trail.