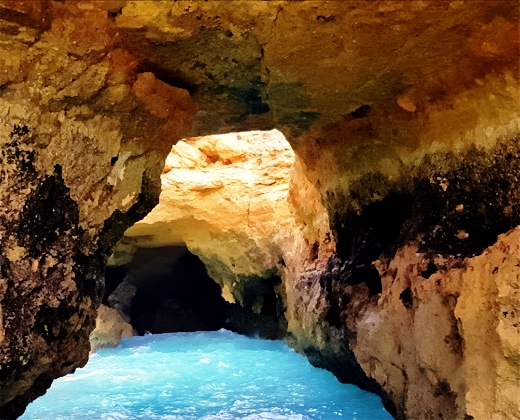 Natural Arch SUP Algarve
Natural Arch SUP Algarve: Join us in experiencing this breathtaking and world famous rock formation as part of our magnificent SUP Sunrise Benagil Tour.
Most prob­a­bly you did­n't yet learn about the Nat­ur­al Arch For­ma­tion. Its impres­sive rock for­ma­tions have been carved out by weath­er and sea through thou­sands of years. One may have a glimpse of it by hik­ing the famou­os Sev­en Hang­ing Val­leys Trail. But in our opin­ion and by our year­long expe­ri­ence, one only may tru­ly expe­ri­ence this mar­vel of tides by Stand Up Pad­dling your way along the Algar­vian Coastline.
And the best ist yet to come:
This pit­toresque and yet impres­sive rock for­ma­tion is part of our SUP Sun­rise Benagil Cave tour, start­ing ear­ly morn­ing. You'll have as well a vis­it to the world famous Benagil Cave near Lagoa in Portugal's Algarve.
Custom tailored for groups and according to your schedule
Per­haps you don't have expe­ri­ence in SUP Stand Up Pad­dle? We hap­pi­ly include ele­ments of our SUP Begin­ner Ria For­mosa tour offer­ing enrich­ing expe­ri­ences even for beginners.
Or would you rather skip the "ear­ly morn­ing" part of our SUP Sun­rise Benagil Cave tour and expe­ri­ence Nat­ur­al Arch dur­ing the day? We'll be hap­py to set­up a tour exact­ly how you envi­sion. Either case, wit­ness­ing Nat­ur­al Arch on Stand up Pad­dle sets you inmidst of its rock for­ma­tion and could­n't pos­si­bly be com­pared to the sight you get just pass­ing by on above men­tioned trail.